I make these Bavarian Cream-Filled Eclairs every year about this time of year, and they are so easy it's mind-boggling. I take them to meetings, and they are gobbled up very quickly. The only thing to know is that they do not keep well– serve them within a few hours of making them, or they will get soggy. They are absolutely scrumptious– I guarantee you will have no leftovers! Not exactly nutritious, not exactly suitable for colon cleansing or other delightful medical benefits…. but you will have gained some adoring fans along with your weight!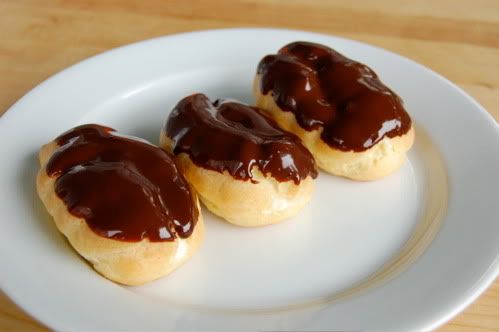 I recommend that you read these instructions completely in their entirety before undertaking the recipe. OK, here goes:
Bavarian Cream-Filled Eclairs
makes 12 eclairs or so
For the Eclairs:
1/2 cup butter or margarine
1 cup boiling water
1 cup white flour
1/4 teaspoon salt
4 large eggs
For the Bavarian Cream filling:
2 packages instant vanilla pudding
2 1/4 cups very cold milk
1/4 teaspoon nutmeg
Note: Do not make the pudding mix until ALL your eclairs are baked!
Note: Depending on how well you stuff your eclairs with Bavarian Cream, you may have some left over. I find it very yummy to eat from a spoon.
Optionals for the eclair topping:
Ready-made frosting
Sprinkles


Important tools you will need:
Wooden spoon
Two metal spoons
An empty condiment container or other kind of squeezing container with a long nose
A funnel
Preheat your oven to 450 degrees. Grease a karge cookie sheet and set it aside.
In a saucepan that has your boiling water, melt the butter into it. Add the flour and salt all at once, and stir vigorously. Cook and keep stirring until the dough forms a ball that does not separate. Remove from the heat and cool for a minute. Now add your eggs, one at a time, stirring vigorously until the dough is smooth. The eggs are slippery and this requires some oomph– but be sure to stir well.
Drop the dough by heaping spoonfuls onto your greased cookie sheet, about 3-4 inches apart (the dough will expand). Bake in your hot oven for 15 minutes, then turn the heat down to 325 degrees and bake for 25 more minutes. When the time is up, turn off the stove and open the door for a minute or two. Leave the cookie sheet in there. Close the over door and allow your eclairs to sit in the oven for another 15 to 20 minutes. This sounds odd, but the remaining heat in the oven will help to dry out your eclairs, so the dough will not be spongy.
When the eclairs are sufficiently dried and cooled, you can turn your attention to the Bavarian Cream: Pour your milk into a large bowl, and add the instant pudding and nutmeg. Quickly whisk the ingredients until the pudding powder is dissolved. Work quickly, as you don't want the pudding to gel too quickly– you need the pudding to be somewhat watery so you can get it into the condiment container to squeeze it into the eclairs. I use a funnel and spoon the cream into the container. This task is a little messy, so be sure to wear an apron!
Once your condiment container is filled, gently work the long nose into a crack or hole in the puffy eclair. Squeeze some cream in, as much as you think is suitable. I sometimes tap the eclair on the counter to force the cream further back into the eclair's cavity. Do not overfill! Otherwise, when your guest bites down into the eclair, he/she will have a lapful of cream.
Repeat this procedure until all eclairs are filled: fill the condiment container with cream, insert condiment nose into eclair and fill with cream, tap eclair to move cream inside.
Once all the eclairs are filled, spread frosting onto the eclairs and sprinkle with decorations.
Serve eclairs at once, or if you must wait, store them in the refrigerator and serve within a few hours. The cream will set into pudding (which I like), but the eclairs will be slightly soggy. I've never received any complaints about it, though.
Photo courtesy of Joe Pastry, who also has some great photos on how to fill the eclairs.